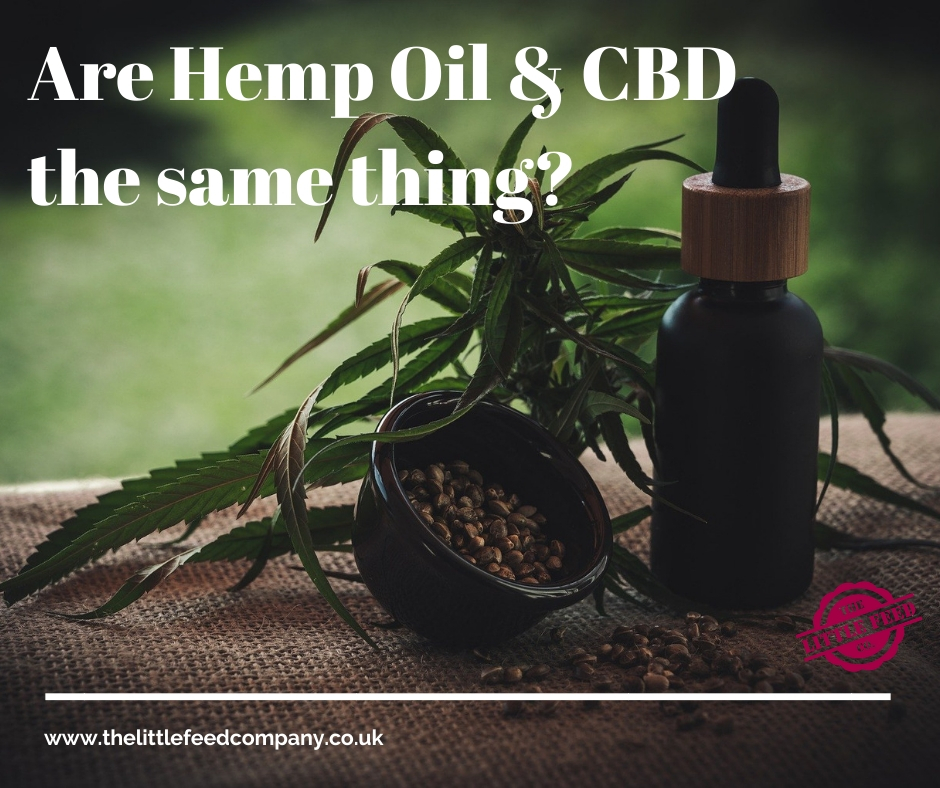 Are CBD and Hemp oil the same thing?
Everyone is talking about Hemp and CBD. The UK industry has gone from nothing to worth over £300 million in just a couple of years. This is because claims suggest that CBD can relieve pain, anxiety, depression, seizures and more…
BUT, are CBD and Hemp the same thing?
CBD comes from the hemp plant but it is not the same thing as hemp oil.
CBD and Hemp seed oil both come from industrial hemp. This is the hemp grown legally and not marijuana.  Hemp Seed oil, as it's name suggests, comes from cold pressing of the hemp seeds, and is a vegetable oil similar to linseed oil. CBD, however, is extracted mainly from the flowers and also the leaves. It is often mixed with a vegetable oil carrier (which could be hemp seed oil,  or coconut, olive etc) which is why it is often referred to as 'CBD Oil' 
Crucially, hemp seeds DO NOT contain CBD.
Humans vs Animals
CBD is readily available from health food stores in the UK and can be sold as a food supplement. You will also see many CBD companies now sponsoring human athletes promoting it as a way of improving performance and increasing focus.
But, for animals, CBD is illegal without a Veterinary Prescription. In 2018, the Veterinary Directorate categorized CBD as an animal medicine. This is mainly in order to safeguard animals from the lack of regulation in the industry. CBD is also a banned substance, so while the cross country runners may be using it to improve their performance, the cross country jumping event horse could end up with a positive dope test.
In the last few weeks, the British Equestrian Trade Association has differentiated between the higher risk hemp fibre (commonly used for bedding) and feed products from hemp seeds.  Hemp seeds do not contain CBD, so they are permitted for use in horse feeds.
To Conclude:
CBD cannot be fed to any animals unless prescribed by a Vet
CBD is a banned substance under FEI rules
Hemp Seed Oil & Hemp Seed Meal do not contain CBD
If purchasing CBD for your own use it is very much 'buyer beware'. The lack of regulation and huge potential for profit has created some very unscrupulous companies – surveys have found that up to 62% of CBD products do not contain the amount of CBD specified on the label – some may have none at all!
If hemp seed oil doesn't contain CBD why should you feed it?
Hemp seed oil is highly nutritious. Unlike any other vegetable oils it provides the perfect balance of Omega 3:6. It is naturally rich in anti-oxidant vitamin E. It provides both SDA and GLA (neither are found in linseed) and the Omega 3 is in a readily digestible form (unlike the Omega 3 in linseed which must be converted by the body before it can be utilized). There are many environmental benefits from growing Hemp over any other seed oil, and it is also very palatable.
We recommend Hemp Seed Oil for all animals, for supporting healthy skin and joints and for providing extra healthy omega oils.  It is also a great source of non-heating energy for horses and may even have a calming effect.  Learn More
Read more about our Pure Devon Hemp Seed Oil here