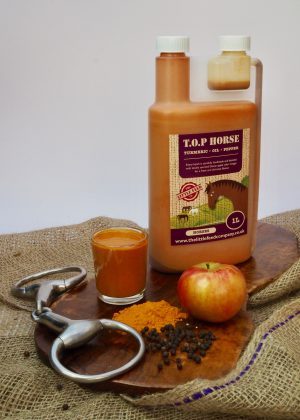 1. Contains the 3 key essential ingredients for optimum results
It is well known that Turmeric for horses must be fed in conjunction with oil and black pepper to improve its absorption rate and bioavailability. T.O.P Horse is one of the only supplements which contains all three ingredients
2. Natural Capture Technology 
Piperine is the active ingredient of black pepper which improves the bioavailability of turmeric. However, piperine is highly volatile so it is quickly lost to the air when pepper is ground. In T.O.P Horse, black pepper corns have been freshly ground into cider vinegar so as to preserve the piperine content via natural capture techniques in the solution.
3. T.O.P Horse contains Omega 3
We use cold pressed linseed oil as the source of fat to improve the absorption of turmeric. As well as benefitting more from the turmeric, the omega 3 fatty acids in linseed oil provide their own nutritional benefits.
4. T.O.P Horse contains cider vinegar
Our local Devon sourced, unfiltered apple cider vinegar is a great all-round palatable tonic for horses, as well as an excellent way of capturing the black pepper. As it is unfiltered, our cider vinegar contains all the goodness affectionally known as 'the mother'. This is usually missing from commercially produced cider vinegars.
5. T.O.P. Horse is mess free, dust free & ready to feed
Just shake well and add the required amount to your feed. No mixing, cooking skills or last minute grinding required!
…Did we forget to mention that T.O.P Horse is a fantastic, palatable, supplement for supporting health and vitality in horses of all ages. Turmeric for horses helps to maintain freedom of movement, supports a healthy immune system, soothes skin and is also recommended for horses prone to skin lumps and blemishes.